STRONG IS BEAUTIFUL
Your routine for beautiful hair
The Valotin System is your ticket to naturally gorgeous, nourished hair. Support hair strength and vitality with our haircare and hair growth support supplement.
NATURAL HAIR GROWTH
Understanding your hair and its growth process
The hair growth process can be split into three stages – the growing phase, transition phase and resting phase. Understanding the stages of hair growth can help you support your hair's health and growth potential.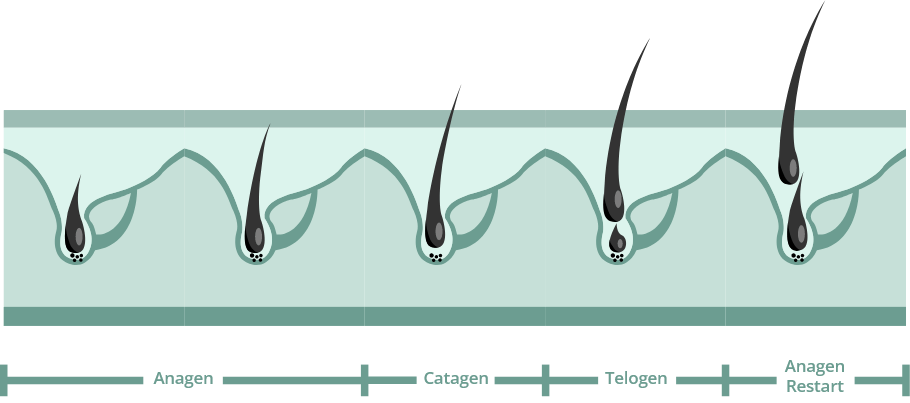 Anagen (Growing Phase):
The hair growth phase usually lasts between two and six years, depending on factors such as genetics, age and health
Catagen (Transition Phase):
This is the stage when hair makes way for new hair follicles. This transition period usually lasts about 10 days.
Telogen (Resting Phase):
Hair falls out when it is released from the original follicle. The remaining follicle rests for up to three months before starting at the anagen phase.
THE WHOLE PACKAGE
Valotin cares for your hair inside and out
PROVEN INGREDIENTS
Made with ingredients backed by science, including biotin (vitamin B7).
ENRICHED WITH BOTANICALS
Enhanced with botanical extracts, including cucumber and aloe vera.
HAIRCARE THAT CARES
Our formulas are gentle on hair, with no parabens or sulfates.
USA ROOTS
Valotin is made in the USA with domestic and imported ingredients.
The science of good hair days
Valotin's secret to success is no secret at all. In fact, it's all spelled out on the ingredients list
Gorgeous hair is healthy hair. Hair, just like the skin, is at its best when it is nourished from the inside and the outside. Valotin's range was designed for holistic hair nourishment – inside and outside, from the hair follicles to the ends.
The haircare and supplement formulas embrace beneficial vitamins and herbal extracts that support hair and your overall wellbeing.
INGREDIENTS
How We Can Support You?
Expertly formulated for all hair types
BETTER TOGETHER
Purchase Valotin Strengthening Shampoo, Strengthening Conditioner and Hair Growth Support together and save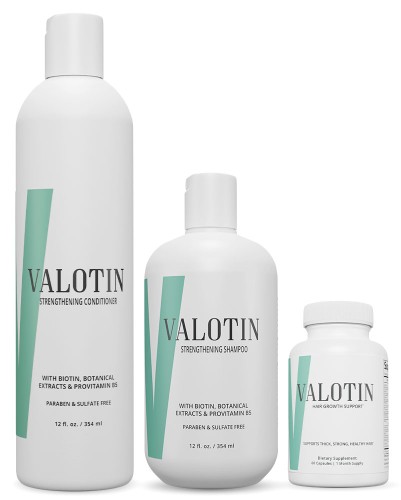 Nourished Inside and Out
Strengthening Conditioner, Strengthening Shampoo & Hair Growth Support Supplement
$88.85
$84.41
Shop Now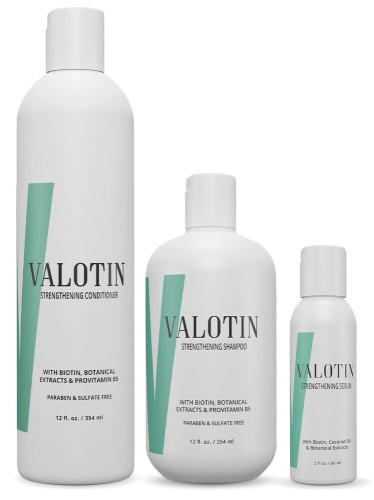 Deep Conditioning
Strengthening Shampoo, Strengthening Conditioner & Strengthening Serum
$86.85
$82.51
Shop Now
OUR CUSTOMERS VOUCH FOR VALOTIN
Read what other people on their Valotin hair journey have to say
Already a customer? Write your review now ‍
Gift this to your pregnant friends and new moms! Trust me on this one -
Zara
A friend gave this to me at my baby shower. Now I make sure to always give Valotin goodies to my pregnant friends. A must have for post-baby hair and plus a special treat for mama
‍ Yes, I would recommend this product
I like that the supplement nourishes hair from the inside and the shampoo & conditioner strengthen the outside. My hair looks thicker and healthier since using these products.
‍ Yes, I would recommend this product
Less hair washing -
Jessica
Since using the Valotin pack I have not been washing my hair every second day. It feels so silky and doesn't get so oily. I only need to wash once a week usually.
‍ Yes, I would recommend this product
So many people have complimented me on my hair lately. It looks so lush!
‍ Yes, I would recommend this product
Click here to read all reviews.