Strengthening Serum
With Biotin, Botanical Extracts & Provitamin B5
2 fl oz / 60 ml
For concentrated hair strengthening, reach for Valotin Strengthening Serum. The secret is a formula enriched with vitamins, minerals and botanical extracts. With regular use, hair will be nourished and smooth.
‍ How it works
Valotin Strengthening Serum is a blend of softening essential oils and vitamins. This serum adds glisten and moisture to the hair.
‍How to use
After washing with Valotin Strengthening Shampoo & Conditioner, or other salon-recommended products, apply sparingly to towel-dried hair. Leave in 'till your next wash, letting your hair soak up the vitamins.
‍Ingredients
Water/Aqua/Eau, Cocos Nucifera (Coconut) Oil, Hydroxyethylcellulose, Panthenol (ProVitamin B5), Biotin, Rosa Canina Fruit (Dog Rose) Extract, Chamomilla Recutita (Matricaria) Flower Extract, Melissa Officinalis Leaf (Lemon Balm) Extract, Achillea Millefolium (Yarrow) Extract, Quercus Alba Bark (White Oak) Extract, Geranium Maculatum Extract, Salvia Officinalis (Sage) Leaf Extract, Cymbopogon Schoenanthus (Lemongrass) Extract, Symphytum Officinale (Comfrey) Extract, Hamamelis Virginiana (Witch Hazel) Extract, Aloe Barbadensis Leaf Juice, Cetrimonium Chloride, Polysorbate 60, Cetearyl Alcohol, Chloride, Isolaureth-6, Propylene Glycol, Methyl Gluceth-20, Glycerin, Guar Hydroxypropyltrimonium Chloride, Citric Acid, Octoxynol-40, Methylisothiazolinone, Cinnamidopropyltrimonium Amodimethicone, Fragrance/Parfum, Sodium Benzoate.
Here's why you will love it
Valotin's secret to success is no secret at all. In fact, it's all spelled out on the ingredients list.
Enriched with powerful vitamins
Infused with German chamomile, cucumber & green tea
Free of parabens, sulfates and cruelty
Gentle formula for all hair types
Suitable for everyday use
Safe for color-treated hair
Professional-grade formula
Every ingredient in the Valotin formula was chosen with care. Learn the story behind the ingredients.
NATURAL HAIR GROWTH
Understanding your hair and its growth process
The hair growth process can be split into three stages – the growing phase, transition phase and resting phase. Understanding the stages of hair growth can help you support your hair's health and growth potential.
Anagen (Growing Phase):
The hair growth phase usually lasts between two and six years, depending on factors such as genetics, age and health.
Catagen (Transition Phase):
This is the stage when hair makes way for new hair follicles. This transition period usually lasts about 10 days.
Telogen (Resting Phase):
Hair falls out when it is released from the original follicle. The remaining follicle rests for up to three months before starting at the anagen phase.
Ingredients
Experience tame & detangled hair with Valotin Strengthening Serum
Coconut Oil
As well as smelling delicious, coconut oil holds several benefits for hair health. Coconut oil is milky and nourishing, and is often considered the best oil to keep hair looking healthy.8
Geranium Maculatum
The geranium flower not only has a lovely floral scent, it is also high in antioxidants and amino acids, which can nourish hair and support hair growth.28
Aloe Barbadensis Leaf Juice
Aloe vera contains vitamins A, C and E. These three vitamins promote healthy cell growth and shiny hair. Aloe vera also increases blood circulation to an area, meaning a scalp massaged with aloe vera might slow hair breakage.3
Provitamin B5
Provitamin B5 offers deep moisturizing and supports the Valotin formula by attracting and locking in moisture from other ingredients.10
Buy together and Save
Harness the vitamins & botanical extracts for hair strength & vitality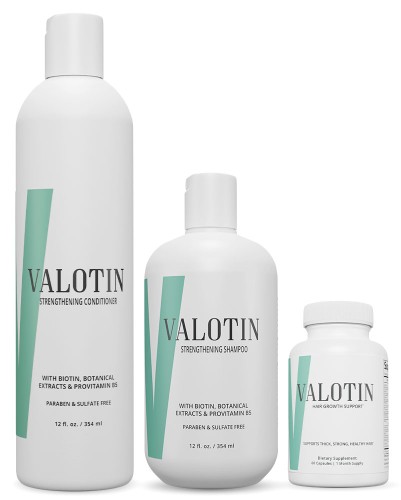 Nourished Inside and Out
Strengthening Conditioner, Strengthening Shampoo & Hair Growth Support Supplement
$86.85
$73.48
Shop Now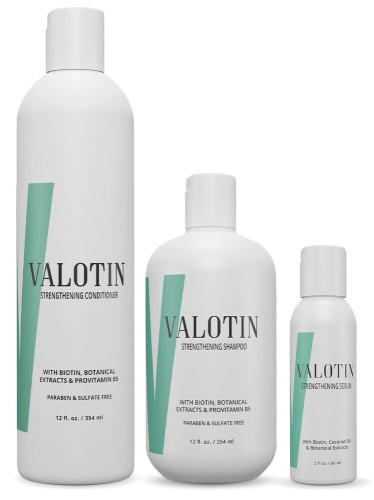 Deep Conditioning
Strengthening Shampoo, Strengthening Conditioner & Strengthening Serum
$84.85
$67.88
Shop Now
OUR CUSTOMERS VOUCH FOR VALOTIN
Read what other people on their Valotin hair journey have to say
Already a customer? Write your review now ‍
‍
I love it, hubby loves it, everyone loves it! -
Lena
The serum makes my hair feel so soft, Plus my hubby loves the smell!
‍ Yes, I would recommend this product
‍
Strong hair -
Kimiora
As a bonus my hair feels softer, must be because of all the oils in the serum.
‍ Yes, I would recommend this product
‍
Going for those Rapunzel vibes -
Georgina M
I always wanted Disney princess style long hair but never seemed to be able to get it past my shoulders. The serum really gave me the confidence to grow my hair out.
‍ Yes, I would recommend this product